This 71 Ambassador restoration was so rewarding because the owner had an emotional attachment to it. It had belonged to her mom and she wanted to bring it back to life. It turned out  great! (click to start slide show)
I had the opportunity to customize an older small block Moto Guzzi. Other than the 2014 Racer, I had never done much work on one of the smaller bikes. My client brought me this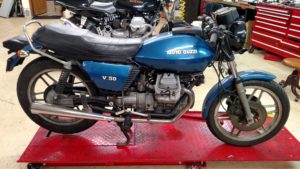 Not one of the prettiest bikes out there. He gave me some ideas of what he wanted and then, gave me a free hand. This is what I came up with.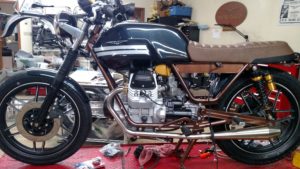 I added a modern V7 tank, moved all the electronics under the seat. Stainless head pipes and Cone mufflers, Powder coat frame, hand made front fender.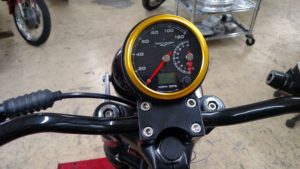 This Speedhut GPS speedometer cleaned up the dash.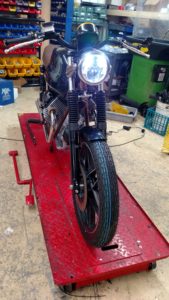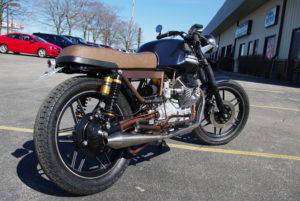 I had a local craftsman make this gorgeous seat. And had the tank hand striped.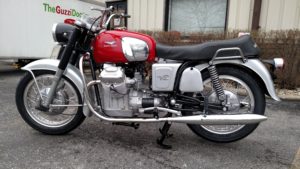 One of my latest restorations. 1968 V700. I feel the timing of this project could not have been better. This is the grand daddy of all modern Moto Guzzi motorcycles that was first produced 50 years ago in 1967. All Moto Guzzi bikes produced since then have been based on this design.
This bike started life as a 1975 850T. I made some internal engine changes including 89.5 mm forged Venolia pistons, bringing the compression ratio to 10.5:1. The cylinder heads are ported, and size matched for 36 mm Delorto carbs, .301 lift cam, lightened 10 spring flywheel, the crank has been micro polished and balanced. I managed to find an original Bub Hyper exhaust system. This engine produces 80+ rear wheel horsepower. Custom aluminum work was done by Craig Rodsmith.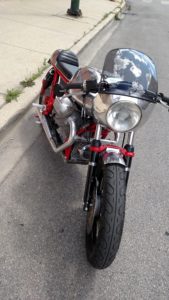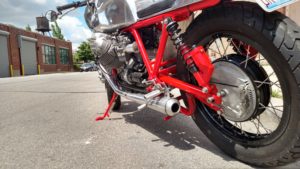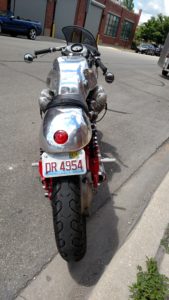 This 2014 Moto Guzzi V7 Racer, was completed in 2016. The owner wanted it faster and louder and most of all different. I started by removing the cylinder heads and having them ported and polished, I added a stainless 2 into 1 exhaust and a K&N air filter. With the reprogramming of the electronic control unit, I achieved an 11% increase in horse power. By removing the air box and relocating the battery under the hand made aluminum seat we reduced weight by 10%. Here is a slideshow with before and after pictures…
1973 Moto Guzzi Eldorado civilian version. I found the bike locally. The previous owner had started the project but, lost motivation. The frame and other components had been powder coated and he had an awesome paint job done. I disassembled the engine, transmission and rear drive, media blasted the cases, had the cylinders Nikisil coated and had the crankshaft balanced. I'm very pleased on how the wheels turned out! Here is the progress I've made on it…
PREVIOUS COMPLETED PROJECTS
I restored this 1974 Moto Guzzi Eldorado  for a client. It's not back to original, it's what he wanted and it turned out great! Here is a slideshow of the progress..
Here is my award winning 1974 Moto Guzzi V7 Sport. This bike just won best Italian motorcycle and Best of Show at the 2014 Motoblot Festival in Chicago.