1970 Dodge Super Bee. One owner from new. 33500 miles all original, un-modified, garage find. The owner of this car passed away last year and his family would love to see the car go to someone who will appreciate it for what it is. The car had been last running in 1999. It will need some work to make it road ready but it is very original and complete.  SOLD
2007 Harley Davidson Sportster Custom. One adult owner, new battery, runs great! 14000 miles.
SOLD
2000 Moto Guzzi Jackal Bobber for sale. This is a very cool version of an under rated bike. The Jackal was the base model of the Californias. This particular bike was left in the basement parking garage where it did not fair too well. I decided it deserved some special treatment. The frame was stripped and powdercoated. I soda blasted the flaking paint from the engine and trans and re-painted it with VHT engine paint. I used the wheels, brakes, suspension, controls and dash panel form a 2003 Stone chassis with 3 miles on it. I installed a set of Centauro bars and risers, and fish tail pipes. The head pipes are ceramic coated, the rear fender is lowered, a vintage tombstone tail light was added to complete the look. The bike came with a power commander installed and I used K&N filters to help it breath and now, this "Goose" HONKS! The latest addition to this bike is an awesome GPS speedometer.
SOLD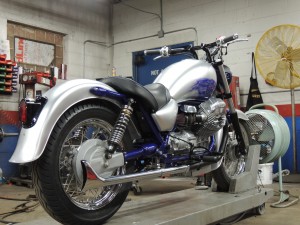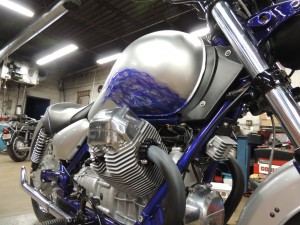 Moto Guzzi V7 Sport! Fully restored 1974 V7 Sport For Sale  SOLD!!!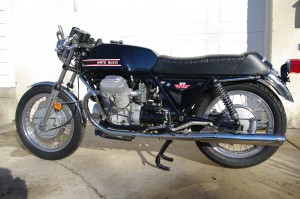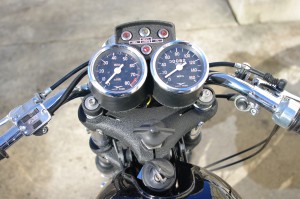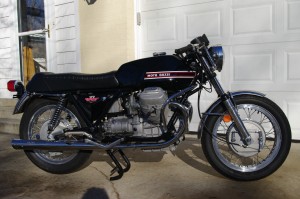 Moto Guzzi V7 Sport! Ground up restoration this is a beautiful  bike  SOLD!!!!