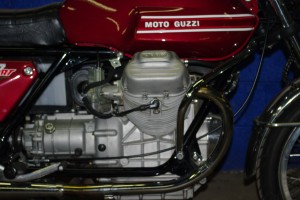 I have been riding repairing and restoring Moto Guzzi motorcycles since 1977.  Having owned over 20 Moto Guzzis I have accumulated knowledge, experience and a decent stock of new and used parts. Tonti framed bikes have been my favorite but, I have rebuilt and repaired many loop and spine frame bikes. Many Guzzi riders know me and are aware of my love of the mark. I treat my customer's bike as if they were my own, when I work on your bike I make small adjustments and preventative maintenance steps that I would when going over my own bike. It's the attention to detail that keeps these bikes rolling and not sitting on the side of the road.
1974 Moto Guzzi V7 Sport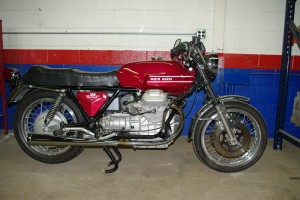 This is a 1974 V7 Sport that I restored and rode for several years. The engine is balanced, flywheel  lightened, cases bead blasted, frame powder coated, all bright metal re-plated, and two stage paint.